StripTease is a growing collection of EKG rhythm strips for rapid interpretation- a critical skill in intensive care medicine- plus a venue for detailed discussion.
It is most useful to providers interpreting non-gold-standard electrocardiography which includes bedside monitors, manual defibrillators, and intra-operative monitors- the only EKGs available in many critical-care/code situations.
To learn more, click How to use StripTease or read the FAQ.
Or, to get right to it, go see the first case.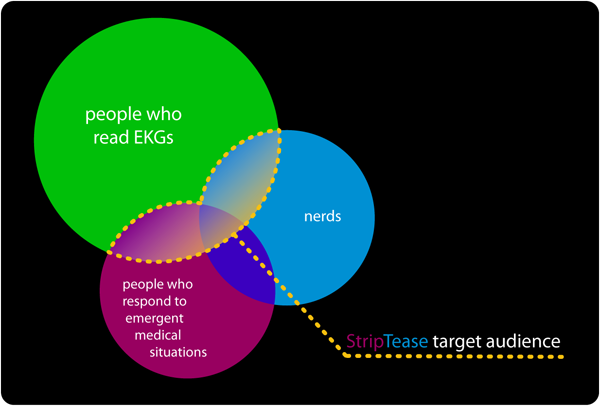 Site stats: The ST homepage has been visited 25,912   times as of 3/31/15.
(Not including bots and web crawlers.)
Keywords: EKG arrhythmia, ECG arrhythmia, arrhythmia interpretation, EKG interpretation, ECG interpretation, Defibrillator, Telemetry interpretation, Monitor interpretation, critical care telemetry, critical care arrhythmia, critical care arrhythmias, electrocardiography, EMS arrhythmia, intraoperative arrhythmia, electrocardiogram, code arrhythmia, code ECG, code EKG, ACLS, ACLS review, tachycardia, bradycardia, VT, VF, ventricular fibrillation, ventricular tachycardia, SVT, PSVT, PVC, PAC, PJC, retrograde P waves, electrophysiology, EP, ICU ECG, ICU EKG, ICU arrythymia, emergency arrhythmia interpretation, EKG strip interpretation, ECG strip interpretation, ECG practice problems, EKG practice problems, ECG practise problems, EKG practise problems, FOAM, #FOAM, free open access medical education, FOAMed, basically: really seriously nerdy EKG stuff.
18,396 total views, 7 views today